The Best Organic Body Lotions, Butters, and Serums of 2022
Why use organic body lotions? When it comes to skin care, oftentimes we spend a lot of time and energy caring for our face and relatively little time caring for the skin on the rest of our body. While it is true that the skin on your body is more resilient to the elements than your delicate facial skin, your whole body needs nourishment too. The skin on your arms and legs is exposed more often to the sun, environmental pollutants, and constant friction from our clothing. This can cause wrinkles, discoloration, sagging skin, and irritation. Winter and summer climates can both wreak havoc on our skin for very different reasons; causing our skin to become sunburned, dehydrated, cracked, and flaky.
The solution? Care for the skin on your body as much as you care for your face! Organic body lotions are a fantastic way to feed your skin and keep it looking and feeling like a million bucks. Organic lotions utilize powerful fruit and vegetable carrier oils, butters, and essential oils in order to transform your skin without harsh chemicals. What's more, these nutrient-dense natural ingredients (like coconut oil, avocado oil, shea butter, and rosehip seed oil) actually alter your skin's chemical balance from the inside out. Over time, you can actually improve the health and quality of your skin—not just its superficial appearance. When shopping for an organic lotion, you'll want to know whether your skin works best with a water-based, aloe-based, butter-based, or oil-based lotion. Very dry and mature skin types may want to explore butter-based lotions as well as body serums and oils; whereas, sensitive and acne-prone skin types may prefer a water or aloe-based lotion formulated without essential oils. As with all skin care, finding the perfect solution is all about trial and error. Check out our short guide on The Best Organic Body Lotion Ingredients at the end of this post for a list of the most common organic lotion ingredients and which skin types they work best with. Need a little help choosing the best organic skin care products for your skin? Then, check out The Ox Box! Each quarter, we'll put together a box filled with premium organic skin care products hand-selected for your specific skin type and skin condition
There are many so called "organic" and "natural" products on the market that are really just filled with cheap preservatives, irritating chemicals, and worthless fillers that can actually create more problems for your skin. That's why we've created this mega list of truly nourishing and organic body lotions. We've painstakingly researched hundreds of organic lotions and have narrowed down the field to this list of 40 organic body lotions and body serums. As with all of our organic lists, all products below are free chemicals from the "dirty dozen" like Sulfates, Parabens, Phthalates, Petrochemicals + Mineral Oils, Synthetic fragrances + dyes, PEG compounds, and Ethoxylated Ingredients. Simply put: you won't find a better list of organic body lotions than this. So, knock yourself out kids—this list is for you!
What are the best organic body lotion ingredients?
What ingredients make a great organic body lotion? It seems as though every day we hear about a new super ingredient that can cure all of your skin woes. Unfortunately, there is no magic bullet when it comes to skin care. There is no one "super" ingredient that does it all. However, there are many simple and all-natural ingredients that have been clinically proven to improve the quality of our skin. Many of these ingredients can be found in your very own pantry and you can even make your own whipped body lotion with them! Whether you are shopping for the perfect organic lotion blend or crafting your own DIY recipe, make sure to be on the lookout for these remarkable lotion ingredients: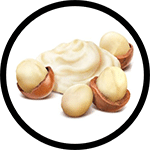 Shea Butter (raw + organic)
Shea butter is made from the nuts of the shea tree and it is a fantastic organic body lotion ingredient in its raw form. Shea butter has a proven track record of treating wrinkles, blemishes, stretch marks, and sagging skin. Some studies have shown that it is also effective at boosting our skin's collagen production—making it a great anti-aging body treatment. Shea butter is packed with oleic and stearic acids (which help to lock in moisture), vitamin A, and has natural SPF 6 protection which can provide light protection from sun exposure. Effective for all skin types.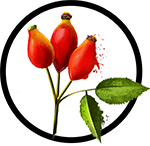 Rosehip Seed Oil (Pure + Organic)
If you're looking for a body lotion that will fix hyperpigmentation and tighten skin, then look for an organic lotion that is packed with rosehip seed oil. Rosehip seed oil is one of the richest plant sources of Vitamin C. Vitamin C has been proven to effectively stimulate collagen production, penetrate deeply to reduce redness, and increase cell turnover. The essential fatty acids within rosehip seed oil penetrate deeply into the skin where they work to neutralize free radicals, reduce fine lines and wrinkles, and increase the skin's permeability. The unique combination of fatty acids and vitamins come together to make organic rosehip seed oil a surprisingly great natural remedy for sun damaged skin and aging skin.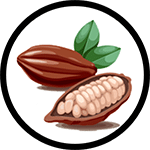 Cocoa Butter (Raw + Organic)
Cocoa butter is a rich oil that is extracted from the cocoa bean (the same beans that chocolate is made from). It's a powerful emollient (softens and smooths skin), rich in antioxidants (like polyphenols, which have been shown to diminish the visible signs of aging), packed with essential fatty acids, and is non-irritating. It is the ideal organic body lotion ingredient for those with extremely dry, cracked, and flaky skin and those with dermatitis.  Also, cocoa butter and shea butter work very well together. That's why you'll frequently find them together in any truly great all-natural body lotion.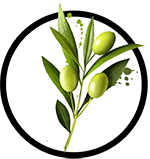 Olive Oil (Cold-Pressed + Organic)
Olive oil is one of the most potent and nurturing organic lotion ingredients around. Olive oil has been praised by history's most iconic beauties as their secret weapon to ageless skin (think Sophia Loren and Cleopatra). Cold-pressed and organic olive oil contains effective anti-aging compounds like squalene (a fat found in our own cells), vitamin E, and a rare antioxidant called hydroxytyrosol which has been proven to effective against free radical damage and acne-causing bacteria. Great for all skin types.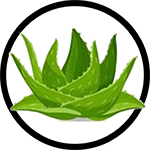 Aloe Vera (Inner Leaf Gel + Organic)
Aloe vera is a clear gel that comes from the center of the aloe leaf. Aloe vera-based body lotions tend to be smoother, lighter, and less greasy than cocoa/shea-based organic lotions. These lotions are ideal for sensitive, acne-prone, and oily skin types. Aloe vera has been used since ancient times as a potent anti-inflammatory and antioxidant. Pure aloe vera is considered a highly bioactive plant which has over 75 active compounds like vitamins, minerals, and fatty acids. Aloe is amazing for treating sunburns, dry skin, acne + acne scars, and even treats wrinkles by plumping up the skin with moisture. Pure aloe is hypoallergenic and won't clog pores. Of course, just because an organic body lotion contains aloe vera doesn't mean that the whole formula is right for your skin (so, do your homework!).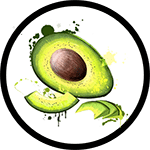 Avocado Oil (Raw + Organic)
Avocado oil is made by expressing the oil from dried avocado fruit. Organic avocado oil is very rich and capable of penetrating into the deepest layers of the skin. Once there, avocado oil's unique blend of phytosterols, omega fatty acids, and vitamin E get to work to stimulate cell growth, diminishing pore size, and boost your skin's production of collagen. Avocado oil can be greasy and slightly comedogenic (may clog pores for some), so it's best used by those with very dry and mature skin. In fact, for dry skin types, organic avocado oil can be a fantastic winter climate body moisturizer all on its own.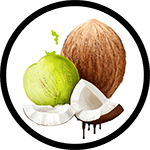 Coconut Oil (Raw + Organic)
Coconut oil is a classic organic lotion ingredient. It's bursting with skin-nurturing compounds like essential fatty acids (caprylic acid being the most noteworthy) and vitamins. These compounds give coconut oil the ability to fight premature aging, kill acne-causing bacteria, promote cellular repair, and prevent moisture loss. Coconut oil is a powerful emollient that can soften the most dry/flaky skin conditions. While coconut oil is truly an amazing natural lotion ingredient, it can also be highly comedogenic for some skin types. Try a patch test of pure, unrefined, organic coconut oil on your body for a few days before committing to a particular coconut oil-based lotion.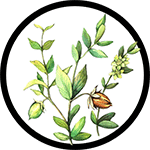 Jojoba Oil (Pure + Organic)
Did you know that jojoba oil is not actually an oil? Jojoba "oil" is really a liquid polyunsaturated wax which shares a similar chemical consistency to our skin's own sebum. Pure organic jojoba oil is hypoallergenic and safe for all skin types. Jojoba seamlessly blends with sebum and forms a thin layer of protection from moisture loss and environmental pollutants. Jojoba oil is best suited for oily skin types because of its ability to balance excess oils by dissolving them. In addition to providing intense moisture, organic jojoba oil also fights acne causing bacteria because it is rich in iodine (antibacterial), unclogs pores, and fades existing acne scars. Jojoba is a fairly common skin care staple that can be found in the best organic body lotions.