26 Best Organic Face Scrubs & Exfoliators of 2021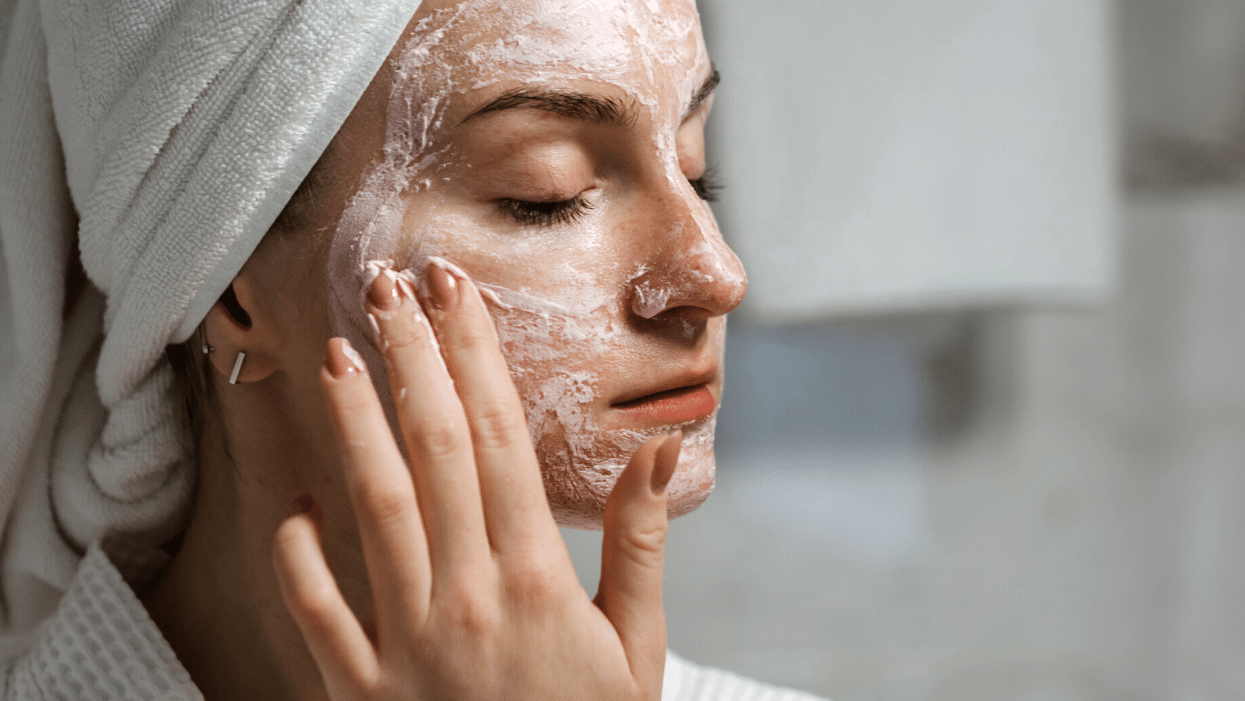 10 Best Natural Exfoliators and DIY Face Exfoliator Recipes
Making a homemade exfoliant from natural ingredients is as easy as a five minute trip to your kitchen. The goal of exfoliation is to remove dead skin as well as trapped dirt and oil within the pores. Fortunately, you don't need fancy ingredients in order to effectively exfoliate your skin. Yummy natural ingredients like oatmeal, pineapple, milk, rice, and sugar are all effective options. As with all things skin care, the quality of the results depends on the quality of the ingredients and formulation. Remember, you'll be using this DIY scrub on your face, around your mouth, and eyes. Be sure to use the best ingredients that you can find. We've suggested some organic versions of each natural exfoliant below. Look for certified organic, non-gmo, and 100% pure versions of each ingredient when possible.
Organic Oatmeal
Oatmeal is a gentle manual exfoliant which works by removing dead skin without irritating or cutting. Its anti-inflammatory and softening properties are great for soothing sensitive skin. Amp up the moisturizing properties of an oatmeal exfoliator scrub by combining with oils, yogurt or milk and rub in circular motions. To use, take organic rolled oats and grind into a fine powder using a food processor or coffee grinder. Take a tablespoon of the powder and add a few drops of water to turn into a paste. Massage the paste into the areas that need a good scrub (typically the nose, chin, forehead, and cheeks). Rinse and follow up with your favorite organic cleanser.
Organic Cane Sugar or Brown Sugar
The texture of sugar particles is effective for physically exfoliating and gently agitating the surface of the skin to reveal smooth skin below. To use, find a quality organic cane sugar or brown sugar and mix with one or more organic oils to create a wet, sandy texture and rub it in circular motions. If the sugar feels too rough, run it through a food processor or coffee grinder to create a finer scrub.
Sea Salt
Sea salt has coarse granules great for physically exfoliation, and is best for people without sensitive skin as the granules are more abrasive (than other exfoliants such as sugar). Sea salt can help to cleanse the skin and fight bacteria. A good authentic and finely ground Himalayan Pink Salt is a great option.  Sea salt can be used on its own (just mix with a little organic oils before applying), or combined with any of the ingredients on this list to make your own DIY salt scrub.
Non-GMO Baking Soda
Baking soda granules are tiny yet effective at physically nudging dryness away from the face, although not recommended for sensitive skin as it may trigger irritation. To use, find a non-gmo baking soda and mix 1 tsp with 1 tablespoon of another powder (like almond powder, oat meal powder, or coffee) and add enough water to create a paste. Massage the mixture skin in circular motions before rinsing thoroughly.
Organic Raw Apple Cider Vinegar
Organic raw apple cider vinegar is the fermented product of apple juice and good bacteria. The gentle acids in ACV help to break down dead cells and is great for acne-prone skin as it has antibacterial properties. Apple cider vinegar is potent and must be diluted with water before applying to the skin. Dilute 1 part organic apple cider vinegar with 4 parts water and mix. Soak a cotton round into the mixture and sweep over the face. You can also combine this diluted apple cider vinegar toner mixture with coffee, oatmeal powder, or almond powder to add a little more exfoliation power to the scrub.
Organic Coffee Grounds
Coffee grounds have an abrasive texture for manually removing dead skin cells without doing damage. As an added bonus, the antioxidants and caffeine contained within coffee help to stimulate circulation while fighting fine lines and wrinkles. To use, combine organic coffee grounds with an organic oil (coconut oil is a great pairing) and massage all over the face and body.
Ground Rice
Ground raw rice has a gentle, yet abrasive texture. The amino acids in rice help to break down and softly remove dead cells. Ground rice is known to be an anti-inflammatory and helps to balance oily skin. Combine with oil, lemon juice and/or honey and rub in circular motions over the face.
Almond Meal
Almond meal is a very gentle way to get physical exfoliation without being overly abrasive or irritating. Almond powder contains oils which nourish dry and sensitive skin. Combine a non-gmo almond meal with a little fine ground Himalayan Pink Salt and organic oat meal powder. Take 1 tablespoon of the mixture and add enough water to form a paste. Massage the paste in and rinse.
Fruit Acids
Certain fruits (such as pineapple, papaya, kiwi, and citrus fruits) contain natural enzymes and acids which break down dead cells. You can take advantage of these natural enzymes in your own DIY exfoliating fruit mask. Blend one or more of the fruits mentioned above until they form a smooth paste. Then, mix 1 tablespoon of the fruit mixture with 1 tablespoon almond meal and 1 tablespoon coconut oil. Massage the mixture and let sit for 5-10 minutes before rinsing. Think this is too good to be true? Turns out, topical application of enzymes in these fruits show significant improvement in smoothness and texture, reducing the depth and number of lines in wrinkles.
Milk (lactic acid)
Milk contains lactic acid which gently breaks down dead, dull cells. Milk also has a softening effect and is gentle enough to be used on sensitive types. In a study, lactic acid proved to be one of the most effective acids in improving skin hydration and wrinkle improvement. To use at home, combine 1 tablespoon of milk with 1 tablespoon oatmeal powder and a drop of your favorite essential oil. Massage the mixture over the face and let it sit for a minute or two before rinsing. 
DIY Natural Face Exfoliator Recipes
There are endless ways to mix and match the above ingredients to make your own DIY natural exfoliant at home. Homemade facial scrubs and exfoliating masks can sometimes work as well or better than store-bought scrubs. We've listed two simple natural facial scrub recipes below, but don't let us limit your imagination! Here are some tips to creating your own scrub:
Mix in a few drops (1 drop per tablespoon of oil or scrub) of your favorite essential oil to create your own signature scent.
Be sure to mix physical exfoliant powders and scrubs (like salts and almond powder) with a carrier oil.  These oils help to gently distribute the scrub, trap dirt and oil, and help to dissolve dead skin cells. Good carrier oils to explore are jojoba oil (for all skin types), olive oil (hydrates and soothes dry skin), grapeseed oil (non-comedogenic for oily skin), and sweet almond oil (all skin types).
It's best to make your scrub as soon as you plan on using it. Bacteria love to hang out in moist environments and these scrubs are technically food-grade. Instead, prep and mix the dry materials in bulk separately from the oils and liquids. When ready to use, mix only the amount of dry and wet ingredients needed for one-time use.
DIY ORGANIC SUGAR & OLIVE OIL FACIAL SCRUB
Method: Combine all ingredients in a small container, cup or bowl. Stand over your bathroom sink and rub the mixture onto your (clean) face and neck with circular movements. Leave for a few minutes to allow the oils to soak into the skin. Rinse off and follow up with your favorite cleanser.
SOOTHING ORGANIC OATMEAL FACIAL SCRUB
Method: Combine all ingredients in a small bowl and mix well. Prepare your skin for exfoliation by cleansing with a natural cleanser. Massage the oatmeal and yogurt mixture onto your face and neck with circular movements. It's a good idea to stand over your sink as this scrub can get messy! Let the scrub sit on your face as a mask for a few minutes to allow the oils and oat extracts to soak into the skin. Rinse off and follow up with an organic toner.