12 Best Gua Sha Tools of 2021 to Lift & Tone Your Skin
Using a Gua Sha Facial Sculptor is easier than you think! Once you get the hang of it, it's actually quite easy to quickly Gua Sha frequently as a part of your daily skin care routine. Here's how you do it:
Cleanse: Thoroughly wash your hands, face, and neck with an non-toxic facial cleanser to remove any dirt, grime, and bacteria. (Optional: Mist with a facial toner afterwards).
Apply Treatment: Apply a potent facial oil, serum, or moisturizer. This will help the Gua Sha to glide across your skin easily.
Massage with Gua Sha:  Hold the Gua Sha at a 15 to 30-degree angle against the skin. Then, in a sweeping motion, glide the tool in an upward/outward motion all over the face. Repeat 3-5 swipes on each section of the face. On the nose, use a downward motion when gliding. Use the smaller parts of the tool to work around the eyes. If your Gua Sha has a notched edge, use that to work around the jawline and eye-bones. Begin with light pressure, increasing slightly as you feel fit–but never fully press. If the tool begins to drag your skin, apply less pressure and add a drop of serum to the Gua Sha.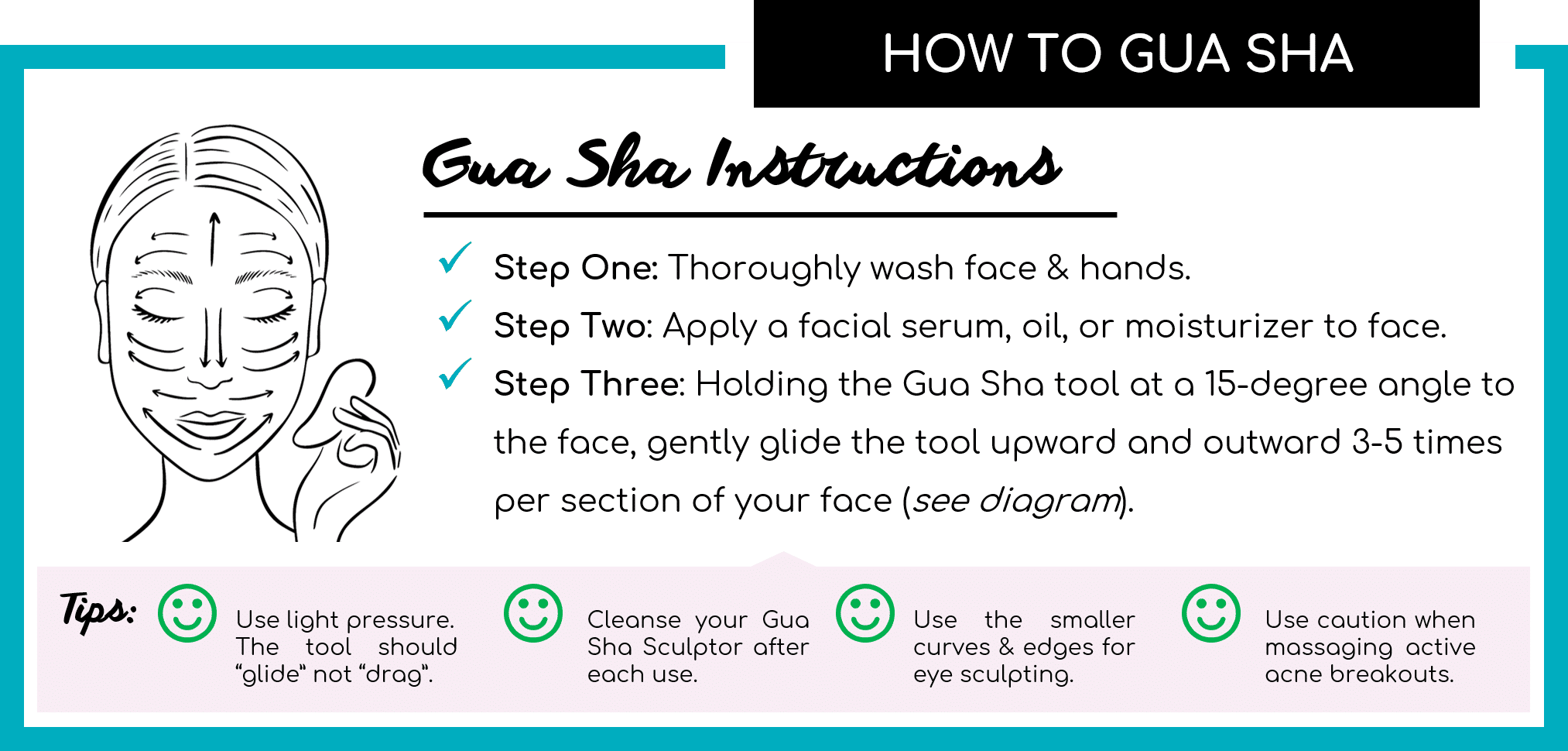 BEST FACIAL SERUMS FOR GUA SHA MASSAGE
No Gua Sha sculpting treatment would be complete without an amazing facial serum. Not only does a good facial serum help the Gua Sha tool to effortlessly glide across the skin, the Gua Sha massage helps the serum to better absorb into the skin. A true win-win! For a complete list of facial serum options (plus a quiz to help you choose), check out our Best Organic Facial Serums & Oils article. In the meantime, here are some of our favorite serums to pair with a Gua Sha massage:
QUESTIONS & ANSWERS ABOUT
Q: What are the benefits of Gua Sha?
A: Gua Sha offers an incredible amount of benefits not only for your face but your overall health as well. You may experience a reduced risk of lines and wrinkles, tighter skin, a release of toxin build up, and better absorption of your skincare products. 
Q: What is Gua Sha used for?
A: Originally used in Traditional Chinese Medicine as a muscle and tension reliever, Gua Sha has entered the beauty market as an overall skin radiance tool. With consistent use, you may experience a reduced risk of lines and wrinkles, tighter skin, a release of toxin build up, and better absorption of your skincare products. 
Q: Can Gua Sha be harmful?
A: Safe for use for most people and skin types, Gua Sha should be avoided by those who have recently had Botox injections to prevent any negative effects, and should never be used directly over cystic acne, pimples or open wounds as it can cause irritation and infection. 
Q: Does Gua Sha help cellulite?
A: Gua Sha stimulates blood flow which could help with reducing the appearance of cellulite. The benefits of Gua Sha for cellulite have yet to be studied, but seeing that it's a great overall health tool; it's well worth it. 
Q: Does Gua Sha help wrinkles?
A: Tension in the face (from anxiety and stress) may lead to an increase in wrinkles and fine lines (3). Massaging daily with a Gua Sha facial tool sculpts and tones the face shape, increases blood circulation (more than 10 times), and encourages collagen production (4).