24 Organic & Natural Eye Creams for Dark Circles, Puffiness, & Wrinkles
Taking care of the delicate skin around our eyes is essential for maintaining a youthful look at any age. It's one of the first places to show the signs of aging like fine lines, wrinkles, and sagging skin. Our under eye skin is significantly thinner, doesn't have as many oil glands, and can't produce as much collagen or elastin as the skin on the rest of our face, making that area more prone to moisture loss and dryness.
Organic eye creams to the rescue! Well, maybe. If you understand the root causes of your issues and know which ingredients are worth the investment, then a great organic and natural eye cream can work wonders to add moisture and much needed nutrients to the under eye area. Unfortunately, many eye creams promise miracles and simply do not deliver on their promises. To help you navigate this crazy world of claims, we put together a comprehensive Guide to Choosing an Effective Natural + Organic Eye Cream.
We've also curated an awesome list of the best organic and all-natural eye creams that actually deliver results. To make it onto this list, each product had to meet our rigorous set of standards including:
Be made with organic and natural ingredients
Not contain ingredients like sulfates, parabens, phthalates, formaldehydes, ethoxylated ingredients, polysorbates, phenoxyethanol, petrochemicals, triclosan, TEA/DEA, synthetic fragrances and colors
Must contain ingredients known to be effective at treating under eye conditions
Be well-reviewed from customers across the web. In the meantime, here are some things to consider before purchasing a natural eye cream:
Have Patience. Nothing Works Immediately.
Rejuvenating the under eye area is a process that requires commitment—especially when using natural and organic eye creams. You are working against nature to replenish lost moisture and nutrients. This requires daily commitment, a potent formula, and consistency. While some natural ingredients can add instant moisture and brightness, it can take weeks or months to visibly diminish the appearance of fine lines and wrinkles. Take a photo of your eyes before you begin an under eye regimen and check back in on your progress least 30-60 days later. The changes may be subtle, so a photo really helps.
(Unfortunately) Creams Can't Fix Every Under Eye Issue. 
No product can fix dark circles and puffiness caused by genetics, poor diet, lack of sleep, or severe allergies. If your dark circles are caused by deeply set eyes which cast a shadow, then your under eyes may actually be healthy and any dark circle cream purchase would just be a waste of money. Likewise, poor diets (excessive caffeine and sugar intake) and a lack of sleep can only truly be corrected by a change in daily behavior. Before throwing down a boatload of cash on an expensive eye cream, do your best to understand the causes of your under eye woes and exercise the appropriate solutions.
You May Need to Use Two Different Eye Creams. 
There are three main conditions: dark circles, puffiness, and wrinkles. We have yet to find a product that can tackle all three conditions effectively. If you suffer from more than one eye issue, then you may need to use more than cream to really get the job done.
Dark circles may require a product that increases circulation, hydration, and brightens.
To treat puffiness and/or irritation, you'll need a product with anti-inflammatory and tightening.
Wrinkles need a product that can add mega moisture and fatty acids. Ideally, you'll want to combine an organic eye treatment serum with an organic moisturizing eye cream for best results.
Still need a little help choosing the best organic skin care products for your skin? Then, check out The Ox Box! Each quarter, we'll put together a box filled with premium organic skin care products hand-selected for your specific skin type and skin conditions.
Guide to Choosing an Effective Natural + Organic Eye Cream
Dark circles can be a pesky under eye problem for people of all ages. Generally speaking, dark circles are the result of blood vessels under the eye becoming more visible due to thin skin under the eye. As we age, the under eye skin loses its elasticity and becomes thinner. Poor circulation can cause the blood to accumulate under the eye and be more visible under the thin under eye skin. However, dark circles can also be caused by several other factors like hyperpigmentation. Dark circles which have a blue tint are likely the result of blood accumulation or blood vessel visibility. Brownish circles are more likely the result of hyperpigmentation. Before you invest in an under eye treatment, be sure that you've identified the root cause of your dark circles.
Genetics: Dark circles can be caused by hereditary and structural issues. Too much melanin production, called periorbital hyperpigmentation, can result in literally darker colored skin under the eyes. Additionally, the structure of your eyes themselves can play a role. Sunken or deeply set eyes can cast a natural shadow which cause the skin below the eyes to appear darker. While certain brightening treatments can lighten hyperpigmentation, very little can be done to correct your orbital bone structure (except really good lighting).
Poor Diet: Your diet also plays a major role in the formation of dark circles (and your skin's health in general). Excessive caffeine, alcohol, sugar, and salt intake can cause dehydration. Because the skin under our eye is thin and prone to moisture loss, dehydration can make the veins under the skin more visible; thus, causing the discolored appearance. Smoking has also been known to cause dark circles.
Lack of Sleep: They don't call it "beauty sleep" for nothing. Poor sleep causes the blood vessels under the eyes to dilate, expand, and become more prominent. This creates a dark tone under the thin under eye skin.
Allergies: Itchy eyes, inflamed sinuses, and nasal congestion can all cause the blood vessels around our eyes to swell and become more visible under the skin.
Aging: There is no way around it: as we age, our under eye skin becomes thinner, making the blood vessels which sit under the skin more apparent. The skin's ability to retain moisture is also hindered as we age.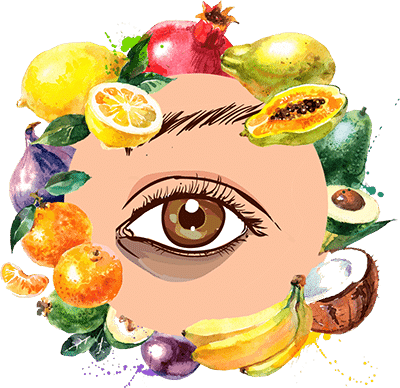 Best Natural Ingredients for Dark Circles
When shopping for an organic eye cream to treat dark circles, you'll want to look for products that contain as many of the following dark circle fighting natural ingredients as possible!
Cucumbers
Caffeine (coffee beans + teas)
Vitamin K
Vitamin C
Kojic Acid
Almond Oil
Rose Water
Mint
Aloe
Tomato
Rosehip Oil
Citrus Oils
Ah, wrinkles. Those little lines that can appear under our eyes, around the eye, or in the corner of our eyes (also known as crow's feet). Wrinkles are most commonly caused by dehydrated skin and a loss of elasticity due to age. However, aging isn't the only reason why our skin wrinkles:
Aging: There are certain components of our skin which play a huge role in keeping our skin looking youthful. Two such components are collagen and elastin. Collagen keeps your skin firm and elastin literally provides elasticity (the ability for your skin to rebound and retain its shape). After the age of 20, our bodies produce about 1% less collagen each year, causing our skin to lose some firmness over time. Additionally, we produce less elastin, natural oils, and other key skin nutrients as we age. Our under eye skin is already quite thin and has a hard time retaining moisture—this gets exacerbated as time passes.
Sun + Environmental Damage: UVA Rays from the sun travel deep under the skin and can cause damage to the underlying skin cells. This damage eventually shows up in the form of wrinkles, sagging skin, and other premature aging signs. Wearing sunscreen religiously or wearing sunglasses when outside can help to reduce this damage. Potent antioxidants can help to minimize if not reverse the damage caused by the sun.
Squinting or Smile Lines: Unfortunately, this is not just an old wives tale. Our habitual facial gestures can create permanent lines over time. Small behaviors such as big smiles, squinting at the sun or due to poor vision, and even creases from sleeping on our faces at night can all cause the areas around our eyes to wrinkle. Wearing proper prescription glasses and wearing sunglasses to avoid sun squints can help; however, unless you intend on sleeping on your back and rarely expressing facial emotions, there isn't much to be done about the other causes.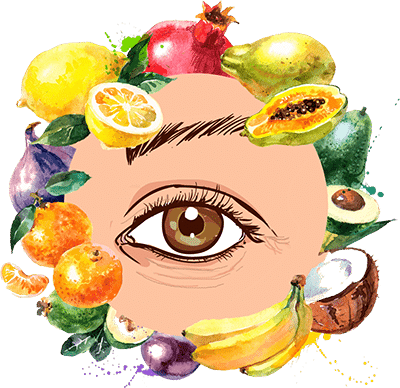 Best Natural Ingredients for Under Eye Wrinkles
Because under eye skin has a hard time retaining and producing moisture, you can dramatically improve the appearance of wrinkles by keeping the skin hydrated throughout the day. Additionally, antioxidants can play a big role in boosting elasticity, firmness, and reversing damage. When shopping for an organic eye cream to treat wrinkles, keep an eye out for these plumping, hydrating, and nourishing ingredients:
Vitamin C
Retinol
Vitamin E
Peptides
Gotu Kola
Grape Seed Extract or Resveratrol
Goji Berry
Aloe Vera
Carrot Seed Oil
CoQ10
Green Tea
Pomegranate
Coconut Oil
Hyaluronic Acid
Under Eye Puffiness + Redness
Puffiness, also known as under eye bags, have a variety of causes from aging to allergies. Generally speaking, puffiness under the eyes is caused by an accumulation of fluids in the skin tissue (also known as edema). Understanding what is causing this fluid retention is key to knowing how to solve the issue. Even what you eat may be contributing towards the problem. While many of these causes can be addressed with skin care products, some of them will require a change in diet and lifestyle habits.
Allergies: Itchy, watery, inflamed eyes can give the under eyes a puffy appearance. Constant rubbing of the eyes can exacerbate the situation as well. While external remedies such as aloe and cold cucumber juice can reduce the redness and irritation, you'll have to manage the cause of the allergy in order to see a real reduction in the symptoms.
Diet + Smoking: Eating foods high in salt can cause major fluid retention in the body. Not only can this fluid accumulate under the eyes, but it can also cause swelling of the legs and other areas of the body. Try reducing your salt intake by avoiding foods that are high in salt. Additionally, cigarette smoke can cause major eye irritation as well as dehydration of the skin (causing sagging eye skin).
Aging: As we age, the tissue under the eyes may become weakened and begin to sag. As a result, fat that is normally stored around the eye can move downward and accumulate under the eyes. Sometimes the extent to which this fat transfer occurs can be partially hereditary as well.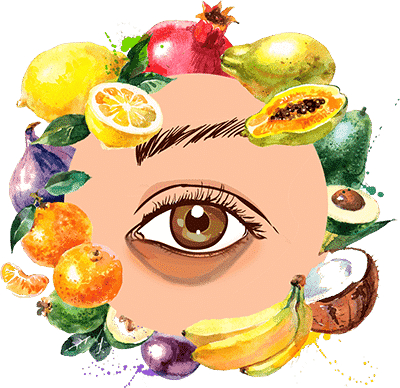 Best Natural Ingredients for Under Eye Puffiness
The key to combating puffy eyes with natural ingredients is to find ones that reduce inflammation, soothe irritated skin, constrict the blood vessels to reduce fluid buildup, and simulate proper circulation. Cold temperatures can help to reduce swelling, so try looking for products that can be chilled. Alternatively, a nice cold jade or quartz roller or a cold spoon can do the trick as well.
Grapeseed Oil
Cool Cucumber
Caffeine (Teas or Coffee Beans)
Chamomile Tea
Aloe Vera
Rose Water
Witch Hazel
Arnica