21 Best Organic & Natural Foundations of 2021 for Every Skin Type
Looking to make the switch to a clean, organic, and natural foundation? Well, don't be fooled by other lists of so-called natural foundations & makeup brands. Unfortunately, "greenwashing" is rampant in the clean beauty industry. Greenwashing is a deceptive marketing tactic in which brands claim that their products are "natural" and "organic" while still filling their products with cheap synthetics, silicones, petrochemicals, and artificial dyes. This is possible because terms like "organic" and "natural" aren't regulated in the cosmetics industry in the way that they are for the food and agriculture industries (2).
That's why our mission at Skin Care Ox is to identify, research, and review REAL natural products—and natural foundations were no exception. Instead of just reading the marketing statements of these brands, we researched each and every product, ingredient, and clean claim made. The result? A comprehensive list of the cleanest foundations you'll find anywhere.
All of the natural foundations on this list are free from questionable ingredients such as parabens, phthalates, BHA, dimethicone & silicones, coal tars, lake dyes & artificial dyes, aluminum, triclosan, talc, polyethylene/PEGS, steareths, bismuth oxychloride, TEA/DEA (triethanolamine/diethanolamne), and many more(1,3,4,5). In addition to our own ingredient standards, we also checked each ingredient against the Environmental Working Group's Skin Deep Database for safety. Many organic makeup products on our list contain natural mineral ingredients like titanium dioxide, zinc oxide, mica powder, and iron oxides. These are natural + non-toxic minerals that have been deemed safe for cosmetic use; however, many of them aren't without controversy. If you are curious to learn more about these minerals and why they are so common in organic makeup, then check out our guide on Common Mineral Ingredients in Natural Foundations at the bottom of this page for more information on these ingredients, their safety, and how they work.
Who cares if a product is "clean" if doesn't work effectively? In addition to our own trials of these natural foundations, we also take into account hundreds of real customer reviews from across the internet. We trialed many super-clean natural foundations that were poorly designed and, frankly, didn't work.
All in all, we narrowed down a starting list of over 80 foundation products to bring you this list of the best of the best you'll find anywhere. Enjoy!
How to Use This List: The list below includes our highest scoring organic and all-natural foundations from our research process.The best way to find the perfect foundation for you is to use our "Filter By" feature below to sort the list by tag to quickly narrow down your choices.
Common Mineral Ingredients in Organic & Natural Foundations
As you begin your research into natural and organic foundations, you'll start notice a few ingredients popping up over and over again. These ingredients are titanium dioxide, iron oxides, mica, silica, zinc oxide, and ultramarines. All of these ingredients are natural minerals which serve very specific purposes in cosmetics. Although they may have non-natural sounding names, these minerals are indeed natural and generally considered safe by many organizations for cosmetic usage. However, some of them aren't without their share of controversy. As always, we've done our research and compiled the best information that we could find on the safety and effectiveness of these minerals so that you can make an informed decision.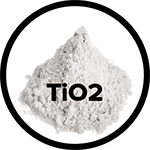 Titanium Dioxide (TiO2)
There is a ton of misinformation floating around about the safety of titanium dioxide. Despite all of the scary things that you might read on blogs about titanium dioxide (TiO2), the mineral may actually be safer than you think. Titanium dioxide is a naturally occurring, non-toxic, unreactive white pigmented powder mineral used primarily in cosmetics because it has a brilliant white pigment, reduces the opacity of product formulas (helps to provide "full coverage"), and protects the skin from UVA/UVA radiation. Much of the fuss about titanium dioxide stems from this study conducted by the International Agency for Research on Cancer (source) where rats were exposed to high doses of airborne TiO2 (250mg/m) for 6 hours/day, 5 days/week, for two years. At the end of the study, the rats were found to have an increased rate of lung cancer due to this inhalation. Many people look at that study and determine that TiO2 = bad. There are several problems with this. First, rats are not fair indicators of human performance (rats have thinner skin and are more susceptible to lung stimulants than humans). Second, this is an excessive amount of TiO2 exposure! There is limited evidence of TiO2 carcinogenetic in humans outside of heavy inhalation exposure in industrial and manufacturing settings. In actuality, there are no known adverse effects of TiO2 in human cosmetic use (cosmetic grade titanium dioxide is also known as TD 77891). Even the Environmental Working Group (EWG) rates TiO2 from 1-3 depending on aerosolized (airborne) usage and quantity due to this lack of evidence. There is some concern, however, over titanium dioxide nano-particles because these particles are theoretically small enough to penetrate the upper layers of the dermis. However, a recent EPA study in 2010 (source) showed that "uptake of nano-TiO2 through healthy skin was not observed." Meaning, there is no evidence that nano-TiO2 was absorbed by the skin into the bloodstream nor was any irritation due to the usage of nano-TiO2 was observed. With all of this said, some people have reported anecdotally that their skin reacts poorly to products with TiO2. Since there is very little evidence of human irritation, it is impossible to tell at the moment whether the irritation was caused by TiO2, nano-TiO2, or something else within their products. As with all ingredients, it is important to do your research, understand the facts, and make decisions that you feel are right for your health.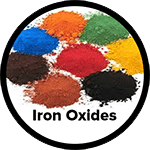 Iron Oxides
Iron oxides have been used since the 1900s as natural pigments in cosmetics and other everyday items. These are naturally occurring mineral deposits (think red rock canyons) that won't irritate the skin, are resistant to moisture, and deliver vibrant color. Iron oxides are some of the few "natural" ingredients where you'll be better off using the synthetic lab-created versions. Why? Iron oxides that occur naturally are often riddled with heavy metals and impurities like mercury, arsenic, and cadmium. The levels of heavy metals in iron oxides are heavily regulated by the FDA for safety. As a result, iron oxides that are used in cosmetics are typically synthetically produced in a laboratory setting so that they can be purified and free from irritants. Lab-created iron oxides are considered exceptionally safe, hypoallergenic, and free from impurities. Iron oxides received a score of 2 from the Environmental Working Group for safety.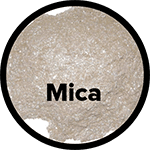 Mica
Mica is a silicate mineral used in many natural mineral makeup lines because of their beautiful shimmering appearance. The word mica actually based on the Latin word for "to glitter." While there are no studies that have shown mica to have negative health effects in cosmetics, the Cosmetics Database lists mica as "moderately hazardous" because lung inflammation has been noted due to excessive exposure industrial settings. It is important to separate the hazards of industrial use from that of cosmetics. In fact, the only known population of people to experience any negative effects from mica are workers in manufacturing factories, mines, mills, and construction work—not cosmetic usage. Mica powder receives a score of 2 from the Environmental Working Group for safety. While rare, mica particles do have slightly sharp edges and some people have experienced eye sensitivity or general irritation when using products with mica. If you'd like to avoid mica, then look for products that are matte (no shimmer) and avoid nano-sized mica particles (which can exacerbate irritation). Note: most mineral and all-natural makeup contains mica powder in varying quantities.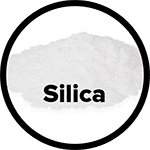 Silica
As one of the most common minerals on earth, silica is an extremely versatile cosmetic ingredient. It is used to absorb sweat, helps product spread easily onto the skin's surface, and it is used as thickening agent in many creams.  There are two types of silica (one good and one not good for health): crystalline silica (not good) and hydrated silica (good). Hydrated silica (also known as silicone dioxide or amorphous silica) is considered safe for general use by the FDA, has no known links to cancer in cosmetic usage (source), has received a safety score of 2 from the Environmental Working group, and does not cause lung inflammation like crystalline silica. One issue with silica is that it is comedogenic and can clog pores for some. If you're nervous about clogged pores, then it is best to avoid products with silica or use these products sparingly.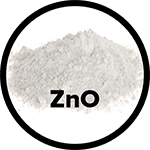 Zinc Oxide
Zinc Oxide is an inorganic white powder mineral that is used in a wide range of personal care products. While its most popular function is as a sunscreen, zinc oxide is also used as a thickening, lubricating, and bulking agent. It is also used to reduce skin inflammation (think diaper rashes, allergic reactions, and irritations from friction). It is inhert and has shown virtually no risk of skin irritation from cosmetic use. The problem isn't with zinc oxide, which is fantastic, but with nano-zinc particles which are made smaller to ease absorption. Remember old school white sunscreens? Well, non-nano zinc oxide tends to leave a white residue, so nano-zinc was created to eliminate this. The problem is that these nano-particles may penetrate the skin and may be absorbed into the blood stream. For this reason, it is best to avoid products that use nano-zinc oxide particles. Zinc oxide receives a safety score of 2-3 from the environmental working group depending on its particle size and usage.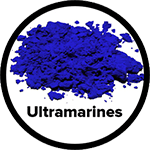 Ultramarines
Natural ultramarine pigments occur within lapiz lazuli (a blue stone), but can also be made from mineral sources such as sodium carbonate and certain clays. Like iron oxide pigments, natural ultramarines can contain unsafe amounts of heavy metals which are regulated by the FDA. As a result, most ultramarines are lab synthesized for purity. You will frequently see the phrase "may contain ultramarines" in many natural makeup ingredient lists. This is because ultramarines are typically only used in darker shades of foundations or in blue/green shades of other cosmetics. The Environmental Working Group gives ultramarine a score of 1-4 depending on their purity (lab created or natural) and usage. Outside of the potential for heavy metal presence in natural ultramarines, there are no known health hazards associated with the cosmetic usage of these minerals.